A Woman's Guide to Successful Negotiating
This is a different type of "how to" book on negotiating...
Bi-Weekly Column
View More
Human Resources Consulting Services
Leadership & Management Training
Sales Training and Compensation Strategies
Employee/Labor Relations
Influencing/Negotiating Training
Performance Management
Employee Handbook Review
Strategies for Onboarding New Employees
Development of Policies /Procedures
Compensation Analysis & Design
Human Resources Best Practices
Equal Opportunity/Diversity
Avoiding Sexual and Other Types of Harassment
Recruiting Strategies
Conflict Resolution Training
Organization Development
Benefit Plan Design
HR Audits
Succession Planning
How Can a Human Resources Consultant Help You?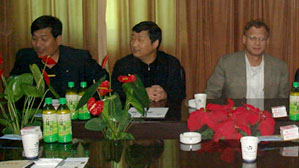 As human resources consultants we assist clients with strategically integrating best human resources processes, programs and practices into their daily operations. We view our role as providing practical assistance that leads to enhanced performance. To accomplish this, we may need to perform needs assessments or audits and make recommendations or proposals, coordinate the creation and implementation of an action or corrective plan, and when required, organize and coordinate cross-functional human resource teams to assist the client with developing and implementing performance improvement corrective plans, programs or processes.